Are you sick of doing everything around the house yourself? Get you kids to help, they are more capable than you think!
Here is a quick guide on chores your little ones should be able to help out with. Obviously it needs a little common sense – if you don't think your kids are ready or capable, no problem, but they will be able to help out with something if not all!
Get them earning their pocket money…
---
0-1
It's never too young to start!! This Mop babygrow is AWESOME!
---
2-3
Put toys away
Put nappies in the bin
Although they are too young to do systematic hoovering, they will love to try, and adore copying  mummy and Daddy with their very own Toy Hoover!
---
3-4
All of the Above
Sweep/ mop the floor
Set the table
Water plants
Replace Toilet Rolls
---
4-5
All of the Above
Put dirty clothes in wash basket
Wipe surfaces/ Clean low down windows
Tidy Bookshelf
Empty Bins
Make their beds
(Pic Via: Two Twenty One)
---
5-6
All of the Above
Pour their own breakfast cereal
Unload the Dishwasher
Fold clean clothes and put them away
Help with meal prep I don't know where they get it from ? but my girls were determined to chuck every item that is in their wardrobe onto the floor every morning.  Since I made them pick them all up and put them away every evening, however they don't make half as much mess. Now just to make sure I don't so this!
---
6-7
All of the Above
Wash Car
Wash Windows
Clean table and stack dishwasher
Dust
Wash Pots and Pans
---
7-8
All of the Above
Sort the Laundry into piles ready to be washed.
Hoover
Strip the beds
No more more excuses thats 'it's too heavy' or tripping over wires. This Cordless Dyson is a GAMECHAGER!
---
8-9
Cook simple meals (with supervision)
Look after pets
Weed the garden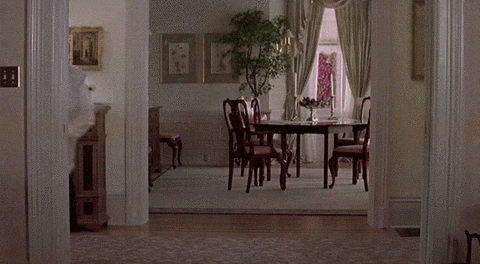 ---
9- 10
All of the Above
Sort and organise toys/ clothes
Clean inside and out of Car
Clean the Bathroom
Iron Clothes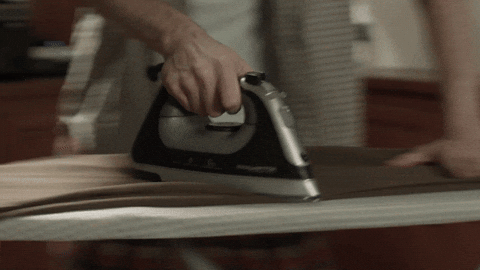 ---
10-11
All of the Above
Wash laundry
Cut the grass
---
11-12
Make packed lunches
Polish Shoes
Put the bins out
Walk the dog
Hang washing on the line and take it in.
Pretty much everything!
Hopefully this will give you an idea of what your kids can be helping out with! If nothing else it might take your to do list from 100 things down to 98!!
---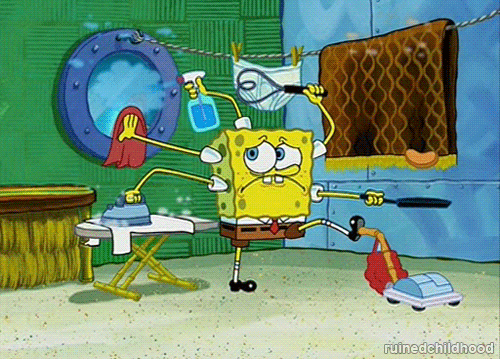 (GIF's via: Giphy)