The Holiday season will be upon us before we know it and we will be *relaxing* by the pool! Hurrah!
We can all soak up some much needed Vitamin D, because let's face it, British weather ain't all that!
Should you find yourself by a pool with small children or, god forbid a toddler, you may already know that it is NOT a relaxing experience. You sit on the edge of your seat ready to pounce at any given moment as they toddle way to close for comfort by the edge of the pool. And that is when you actually let them off your knee as you are getting toddler striped tan lines keeping them close…
Still here are some tips and tricks and products to make it less stressful and more zen-like!
LIFE VESTS
These Water Wings look BRILLIANT for that extra piece of mind while the smaller ones are around water. I think my toddler will be living in one of these while we are by the pool. They are designed to keep them afloat but allow their arms free movement- they will still be able to doggy paddle to the side should they fall in!
---
ARM BANDS
Good old, classic arm bands, still the go to to shove in your bag for a day at the poolside. Not as cumbersome (or expensive) as alternative options, you are safe in the knowledge that if they fall in they will float, however the do prevent full arm movement, and if you are trying to teach the kids to swim- that is what you need!
---
SWIM FINS
These Shark Fins are a brilliant invention! They will keep the kids afloat while in the optimum swimming position and without hindering their arm movements at all. Worth the investment- they use them in all the swimming lessons around us now. Perfect for the kids who can't quite swim but are learning. My 5 year old loves hers!
---
FLOAT SUITS
These are a great way to keep the kids safe while they are playing around the pool. You can stop helicoptering in the knowledge they always have their inflatable on!
We found these gorgeous ones at JoJo Maman Bébé HERE
---
Hopefully you will be able to catch those rays without worrying about one of your children sneaking off in a split second and sinking to the bottom of the pool.
We remind you however children do still need constant supervision while around water.
If you want to be able to take hour long naps around the pool you could always rope in a friend or family member to give you ultimate peace!!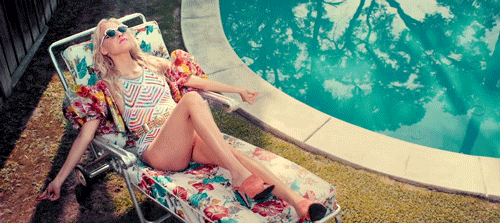 (Credit: Giphy.com)