Teaching kids to ride a bike, that monumental parent and child bonding experience that your child will remember for the rest of their life.
Well, the bad bits at least. I remember desperately trying to ride around our tiny garden on the grass, as my parents wanted me to have a soft landing should I fall off. Which I did, a lot, as I was like, RIDING ON GRASS which is ten times harder!!
It is hard to know what you are doing- even if you can ride a bike perfectly yourself, its almost impossible to describe to a small child how to get your balance! Here are a few tips that should get the kids whizzing about in no time…
---
HELMET
The first place to start! Get them a well fitting Helmet. While the aim is they don't fall off and bang their head, it is much better to be safe than sorry and lets face it- they WILL fall off at some point.
There are literally hundreds to choose from no matter what your budget is- some of the designs you can get now are quite frankly, awesome!!
---
BALANCE  BIKE
Balance Bikes are AMAZING inventions- as soon as they are big enough for their tiptoes to reach the ground while on the seat you can get them out and about, they might try to walk along and push it at first but be patient- they will get the knack of it eventually!
If you wish to skip the balance bike stage you can do the same with a normal bike- simply remove the pedals- and voila- your very own balance bike.
---
SPACE
The best thing to do is to take them where there is enough space- might seem obvious but clearly that didn't register with my parents! 
Find a nice open space that is SLIGHTLY downhill. All you need is a slight incline- BEWARE- if it is too steep you better be able to run fast to catch them! 
Try and avoid places where there are loads of obstacles- trees, bins, people, etc. Grass verges are brilliant- should anything get out of control you can rest assured they will have a cushioned landing.
---
RIDING
Hold onto the bike UNDERNEATH the back of the seat- not the handle bars- this will send them waaaay off balance.

Run with them while pushing to start them off- holding on, and always tell them exactly what you are doing- if you say you are going to keep hold- do so. Letting go once mean the next time they will tense up and will be more likely to be looking around checking where you are instead of getting their balance. 
Once they have a little speed up get them to lift their legs and enjoy the ride.
 TELL them when you will be letting go IF they have the balance to go for a few seconds, then PRAISE PRAISE PRAISE!!
Don't forget to Stop them before they go too far- it helps to have someone at the bottom of the incline if you can, but this is not a requirement as long as you can keep up with the bike! Carry their bike back up to the top and repeat until they get the hang of it!
Once they can run along, and lift their legs up for a little ride themselves they are ready for the next step…
Pedals
Get them to start as if they haven't got any (pedals that is) – run along for the momentum before they begin to put their feet on the pedals once they are free riding. As they are already going slightly downhill they wont NEED to pedal but when they do they can get the knack of it while balancing rather then having to work hard and push down- this can cause them to loose their balance easily while they are just learning.
Practice, Practice, practice! Remember to keep it fun, play little games, give them little challenges. It won't happen over night and if you tire them out too soon they could loose interest making it a nightmare the next time you suggest getting on their bike! 
---
STABILISERS
Get rid of them- at least for the purposes of teaching them to get their balance. Don't get me wrong, they are BRILLIANT for teaching them the cycle action and letting them practice so they know how to push their legs around. Well worth having- but don't be scared to take them off when you need to!
GET A BIKE WITH STABILISERS HERE
Make sure they practice a little with them both on and off- that way when you do take them off it wont be such a big deal!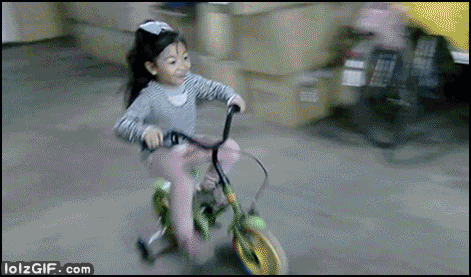 Good luck and happy riding!!