The Smart Dummy, Pacif-i takes parenting to a whole new level.
We are a fan of ANYTHING that makes a parents life easier, especially if when it benefits the health of your child. Check it out!
Hallelujah! No more desperately trying to fit the thermometer under their vest and pin their arms down. That dreaded moment in the middle of the night when they are sleeping but you need to know if their temperate is under control wouldn't involve bothering or waking them up at all! A simple check of the phone app will let you know!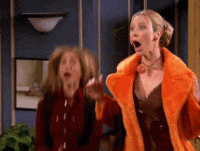 (Via: Giphy)
Kiss goodbye to having to put the big light on in the middle of the night because you can't see what the thermometer is actually saying.
The finding dummy feature would be sooooo handy. The man hours I spent hunting down stray Dummies only to find that the just threw it out of the pushchair. They alert on your phone would be a godsend!
>>>>>GET IT HERE<<<<<<